April 12, 2017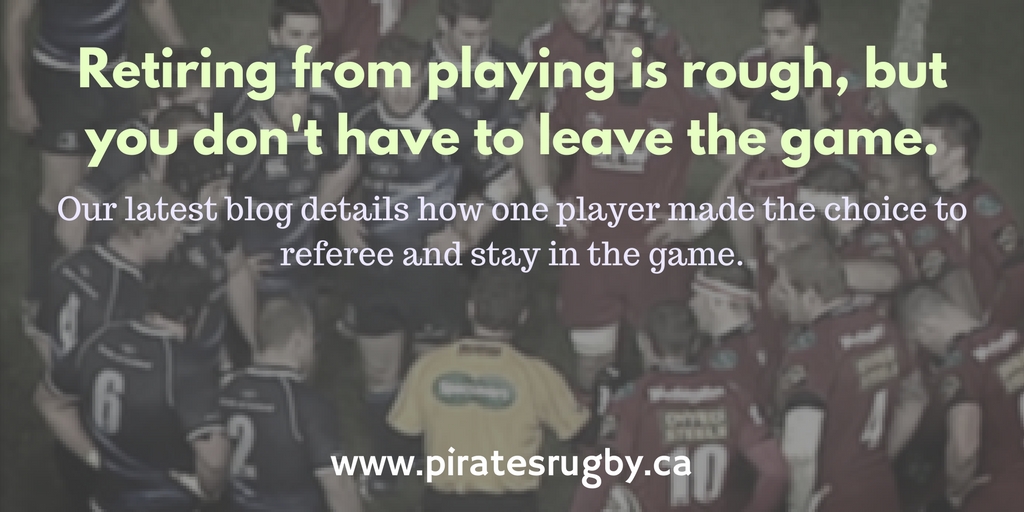 World rugby law book rule #6.A.4 (a) "The referee is the sole judge of fact and of law…"
It's amazing how a phrase can change meaning to a person over time. When I started playing rugby, years ago, I had Dave Bailey tell me that… and I hated it. What that phrase meant to me was I wasn't going to win any argument I had at the time with the referee that had just said it to me.
I started playing rugby when I was 16 years old as a way to hang out with friends and be able to take out physical aggression without getting in trouble for it. After a couple years break after junior rugby I managed to let someone talk me back into the game. I have had some of the best times of my life playing rugby. I have met lifelong friends from around the world, and obviously from here at home, I have learned more about myself in my time on the pitch than I would have ever thought would be possible from a sport.
I loved the feeling of waking up on a Saturday morning, nervous and excited to play the match we had trained all week for. Even the drive to the pitch had it's excitement for me, and the feeling I'd get the moment I'd see the posts as we pulled up was usually accompanied by a drop in my stomach I learned to love. I usually liked to get to the pitch early on game days to settle in and see the rest of the team arrive. It really is something to see each guy you've trained with show up on game day switched on in their own individual ways. The forwards usually show up with an intensity that is brought on by their need to hit someone, and the backs seem to arrive with a jovial attitude – laughing and keeping loose… for the most part. When I was younger, I hated the nerves. They used to almost make me sick before each kickoff, just simply anticipating the match, and they always stayed until the first hit of the match, and then for the next 80 minutes nothing in the world mattered but what was on that 100×70 meter piece of land. 80 minutes of aggression, strategy, teamwork, and fun.
I loved the game – almost to a fault as my wife would say – and was primed for another great season. I had trained through the winter, actually improved my cardio (and I HATE cardio) and felt great about the upcoming season until, in the time it took to break the defensive line in a seven's match and throw a stiff arm, my future in rugby changed. I ended up getting tackled during the stiff arm and felt something weird in my shoulder. I called for a sub and walked to the trainer on the sideline telling her for some reason I wasn't able to lift my arm up anymore. I had been hurt a few times before during games, so I figured that I would drink it off for the day (it was rugby fest after all) and after a few weeks I tried to play in another league game… It didn't go well, as I dislocated the same shoulder. I went through this same routine for the next month or so until I finally took some advice and went to a doctor. What I had done weeks before turned out to be a torn labrum and a piece of bone broken clean off, resulting in surgery to repair the labrum and 5 screws to hold everything together. My rugby playing days were effectively done.
I found out over the next year or so anything I thought was tough while playing – the training, the matches, getting up in the morning feeling the pain from everything, even the hangovers – nothing was tougher than having to watch from the sidelines. I stuck around the club for a season to help as much as I was able to, but eventually having to watch was getting harder and harder – especially as I started getting healthier but knowing that I wasn't able to play. The need to do something in rugby became increasingly more prominent every time I was anywhere near a pitch. I had coached in previous years and loved doing so, but I didn't quite have the time or the best schedule due to working a shift that occupied my later evenings and nights more than 50% of the time.
ENTER: Refereeing.
"Everyone knows that any organized sport needs only a few things. A venue, two teams, and a referee."
I decided to take an offer that had been extended out numerous times from our local refereeing society to all of the rugby clubs in the city, as they're always looking to increase the number of younger referees in the sport. I accepted the offer to take a level 1 course in the city, if for nothing else to gain a different view on the interpretation of the rules from a refereeing perspective. It's always been an unwritten rule in rugby, and sports in general, to "play to the referee" so learning how a referee sees the game I figured would be beneficial if I was lucky enough to be able to play or coach again at some point. Of course, once the course was complete, I was tossed into my first high school tournament to ref. The first couple of matches in my first tournament went off without a problem, but I quickly found out what the biggest hurdle would be for my transition from playing into refereeing. Normally in my past experience, when something would go awry in a rugby match while playing, we had been taught to "sort it out" on the pitch, whether that be waiting for the perfect time to make a big hit, or otherwise. In my third match of refereeing I made a call that was, at best, questionable and heard it from the receiving team's coach. I was stunned… furious… and rattled. I knew I was in a position where I had to be professional and uphold the standard of the game, but at the same time I wanted to lash out at the coach and put him in his place. It was then I knew there was going to be a transition period from player to ref.
Through my relatively short time referring I have learned there are what I consider to be four ways to interpret every rule and call made on the field. The fan, coach, player and then the ref. I always thought as a player and coach I knew the rules of rugby fairly well, well enough that I had no problem yelling at the referee when they made a call that I didn't agree with, but that way of thinking changed when I picked up the whistle.
When I initially started refereeing, I didn't think it would be a long term hobby. I thought I would get certified and it would be just another course under my belt, as I didn't think I would like it enough to spend an abundance of time doing. As I started to get a few more matches under my belt I became more comfortable on the pitch with the whistle, making calls (correctly) and started to find more and more enjoyment out of reffing. One of the things I didn't enjoy at the beginning of my time reffing was the singularity of being out on the pitch without the support of a team behind and around me, something I had gotten used to as a player. It's a "different" feeling when you're out there on the pitch and have 15 players plus coaches and fans angry with a call you've made, and you haven't got anyone readily backing you up. What I soon realized as I moved forward in refereeing, is the refereeing society is much more of a team than anyone may know or realize. What kept me coming back to the Edmonton Rugby Union Referee Society was the emphasis they put on inclusion of their members. Once I was introduced to a few of the other referees, they were thrilled to have me and treated me as someone they wanted to keep around for a long time. I had multiple offers for coaching, members constantly offered tips and advice to help me along the way to getting comfortable as a referee on and off the pitch.
Through refereeing I have already had the opportunity to have many coaching sessions from highly ranked mentors from within the province as well as national panel members, but most recently I was fortunate enough to be sent down to Sacramento California to attend a referee coaching seminar led by some high level members of the USA rugby refereeing community and actively referee the largest high school level tournament that included the previous national varsity champion sides. Having the opportunity to ref younger generations with such a high ceiling while getting actively coached on my ability and refereeing skills allowed me to further improve my game and build confidence in myself on the pitch.
Going into the 2017 rugby season, I now consider myself almost completely transitioned from player to referee and can notice the changes in the way I see the game being played. When I watch pro level rugby it's funny to find myself seeing more of the pitch, challenging myself to make the calls that are being called on the field. My pre-season prep has changed from preparing for the physicality of the game as a player to the agility, continuous movement, and knowledge of the law book required as a referee. I find myself being able to plan more of my summer to camp with my family due to the more flexible schedule refereeing accompanies. Continuing to ref has allowed me to keep challenging myself to improve my knowledge of the game, fitness, and professionalism when representing the game.
I may not be playing the game that I love first hand but I still get to be a big part, interact with the players, and keep up with the sport I've been enthralled with for the last 17 years.
— Thanks to our latest blogger, Thomas Hyland.  While we are a little late posting the blog, it is with good reason — he is now a first time dad and was reasonably delayed by all the cuddling and golf watching he's been doing with his new son.  The Pirates would like to extend our sincerest congratulations to him and his wife on their new addition and can't wait to see him out at the club.
For more information on becoming a referee, please contact the Edmonton Rugby Union Referees' Society (erurefsociety@gmail.com).  They also have Level 1 Referee Clinics coming up soon on April 27, with a high school tournament April 28/29 and May 4, with a high school tournament May 5/6.  Check out the Edmonton Rugby Union website for more details.